Professional Photography services are available on the day of Commencement, and you can make a reservation on spot with special discount price.
*Advance reservation is also available.  Please check our website in Feb. (for March), and in mid-May (for June) for service update.
Flow
Step 1
Visit our websites in Feb. (for March) or in mid-May (for June) to check details / make a reservation / payment (Credit Card payment accepted).  Details information about the shooting will be informed (Shooting Location, Time, etc).
You must choose the basic order.  
Step 2
For those who have made a reservation (at Step 0), and choose to make an advance payment at ICU Service Counter (located at "Admin. Bldg. 2F, next to "Administrative Department"), visit ICU Service Co., Ltd. to make a payment.
Step 3 On Commencement Day :
(For those who have made advanced booking (Step 0 or 1))Register yourself at the reception and follow the instruction for shooting. (takes about less than 10 min.) 
(For those decided on Commencement) Register, make a payment at the reception desk, and follow the instruction.
※Shooting will be coordinated "First-Come, First-Serve Basis".  We will strongly recommend you visit the site as early as possible to avoid the crowd.
Price Lists
ICU's appointed professional photographers offer several packages listed below.
A(JPY8,000-)・・・ 1 pose (Gstanding)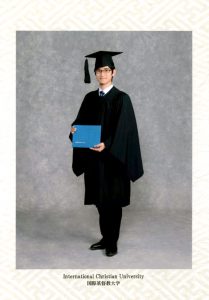 B(JPY16,000-)・・・2 poses (close-up and standing)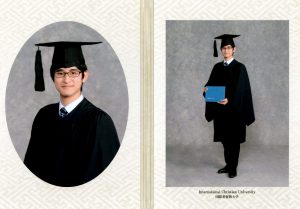 ※Printed Copies ONLY (No Digital Copies)
※ Tax included
※ Plus Shipping fee of JPY1,500