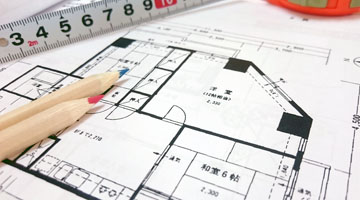 ICU Service Co., Ltd. has made arrangements with several Real Estate Agencies for your off-campus housing needs. We have identified several types of housing for you.
Please click the links below for specialized listing for ICU Students. Some offer special benefits, so please make sure you identify yourself that you are a current or a future ICU student (or faculty members).
Off Campus Housing Guide
This guide book also explaining basic real estate related terminologies and conditions in Japan. Please have a look.
Rent a room
You can register yourself to the agents via Request Form on this page, so that the agents could send you some information.
When making inquiries to the agents, please make sure to… (or send your inquiries from the [Request Form] below.)
identify yourself that are a current or future ICU students (or faculty members)
estimated date of arrival to Japan
estimated move-in date to the property you wish to move-in (some property require lead time). 
List of Partners
Share Houses
Share house is a residency that is shared by several people who live together.  Every resident uses minimal space to secure their own privacy (the most basic being the bedroom), while the kitchen, living room, showers, study room, theater room etc. are shared by all residents in the building.
One of the unique characteristics of Share houses are 1) Short-term rental contracts are available most of the time, and 2) lower initial and monthly costs compared to regular rental apartments.  Thus one can live quite reasonably.
OAKHOUSE
TEL
OAKHOUSE Shibuya Information Center +81 (0) 3-6427-3777
E-mail
info★oakhouse.jp  (*Please replace ★ with @.)
ICU Service Co., Ltd. signed the agreement with OAKHOUSE for the following four 6 properties only.
 ・15 to 20 min.+ bicycle ride from / to ICU, public bus stop is just a block away! (15 min. walk; 5 min. bicycle ride from JR Higashi Koganei St.)
 ・3 min. walk from convenience store (Family Mart) and public bus stops.
 ・Located right in front of famous Koganei Park.
 ・10 min. walk from JR. Tachikawa St.(16min. train ride to JR Musashi-Sakai St.)
 ・4 single rooms plus common area per Unit, and if you want to save money, an option to share a bedroom with your friend is also available for the one who wants to save ¥¥¥.
 ・Tachikawa is one of the biggest entertainment and shopping destinations in West Tokyo.
 ・13 min.+ walk from Seibu-Shunjuku Line Hana Koganei St. Conveniently located right in front of 7-11 convenience store.
 ・Less than 5 min. walk from Takanodai St. (16min. train ride to JR Musashi Sakai St.)
 ・Designed by well-known architects, this stylish Terrace House is surrounded by green along the Tama river. 3 rooms plus common area per Unit.
 ・For those who prefer quiet environment, or if one wants to share a unit with your friends, this unit may be ideal.
Off-Campus Student Dormitory (Gakusei Kaikan)
An off-campus dormitory-style residence is available through an ICU Service cooperative agent. Dormitory managers, who are full time staff, provide not only a place to stay, but also a family atmosphere.  Fees vary depending on the type of room and the period of the contract.
Residence "father and mother" live and manage each residence.
The rooms (mostly single rooms) are furnished with an air-conditioner, a bed, a chair, a desk, a closet, a bookshelf, a telephone and an internet line (optical connection).
Breakfast and dinner are provided except for Sundays and national holidays.
Bath, toilet, kitchen and laundry facilities are shared.
Student Apartment House
Student Apartment Houses have features such as…
  – All of the residents are students.
  – There are various rooms such as: rooms with resident dormitory managers, meals included, only for female, fully furnished, and so on
Students' Mansion Complete Support Center
(Previous Name: Mainichi Comnet Residential Co., Ltd. / Student Service Plaza Co., Ltd.)
TEL
0120-964-068 (#0120 number can only be used within Japan. For overseas, please visit their website or send e-mail)
E-mail
sitemaster★maicom.co.jp (*Please replace ★ with @.)
URL
http://www.hitorigurashi.com.e.acj.hp.transer.com//estate/s1376/
General Apartments
Privately owned apartment rooms are generally unfurnished and cost around \45,000 to \85,000 a month, with an initial fee (non-refundable) and deposits (refundable) that may amount to three or four times the monthly rent.
Hayashi Fudosan, Co., Ltd.
TEL
+81 (0)80-1209-8061
E-mail
mayu100★jcom.home.ne.jp (*Please replace ★ with @.)
URL
http://hayashi-fudosan.jimdo.com/
Local real estate agent who owns a few apartment building, 3 min. walk from ICU.
Basic  terminology of searching room in Japan
| | |
| --- | --- |
| Rent & Fees: | Utilities may be charged separately from the rent. Apart from the rent, some facilities require management fee. |
| Shikikin(Deposit): | At the time of contract, the amount equivalent to 1 to 2 months rent is required to be paid as a security deposit. The deposit shall be applied for room cleaning and repairing the damages, if any, when you vacate the room. |
| Reikin (Gratuity fee): | There may be required customary payment at the time of contract to show gratitude to the landlord. This is a non-refundable fee normally equivalent to 1 to 2 months rent. |
| Agency fee: | Real estate agency may require agency fee equivalent to probably one month rent. |
| Renewal fee: | Renewal fee may be required at the time of the renewal of the contract, in the amount equivalent to 1 to 2 months rent. |
| Guarantor: | The tenant may be required to nominate a guarantor, who would guarantee paying the rent in case you would not be able to pay. If you know someone, who has independent household in Japan, and agrees to be your guarantor, you would nominate the person and let him/her sign the document. But if you do not know anyone, ICU Service can introduce a commercial guaranteeing company called Global Trust Network (GTN). GTN specializes to offer guarantee service for fees to non-Japanese students. It has entered cooperative agreement with ICU. However, whether GTN is acceptable as a guarantor or not is entirely up to the landlord. If GTN is not acceptable to the landlord, the landlord or its agent may offer you to use the other commercial guarantor instead. |
| Insurance: | Your landlord may request you to purchase tenant insurance for damage liability including fire. Please ask your agents. |